part four bulkhead repairs
---
Part four Bulkhead repairs
Photo number one above shows the truck as collected the bulkhead was known to be very badly rusted but as the dismantling got under way the extent of the corrosion beacame more visible as soon as the bulkhead was removed from the chassis things seemed to get much worse.
Photos two ,three & four show the full extent of the corrosion the worst of the rust eating into the cab sub chassis on left side .
I will admit that repairs to this kind of monocock constructed bulkhead was looking to be beyond my skills and my thoughts looked to finding a replacement ,but aero screen MW bulkheads are different in many respects to the later ones and the only available replacement early bulkhead had been dug up in a field in Belgium and was not really that much better .i knew that my friend Rippo had been having some excellent work done by an old style time served sheet metal man called John who works from the garage at the side of his house , the original bulkhead and a donor later bulkhead were taken over to Johns to see if he could work his magic and save the early parts from the original bulkhead .
Donor later bulkhead
Wooden jig built for repairs to Bedford bulkhead with sub chassis fixed in place
Centre section of bulkhead fitted into jig
New replacement floor panels fitted
Inner wheel arch and passenger toe plates fitted
Door pillar and foot well top plate fitted
Work on drivers side inner wheel arch and steel work to attach to cab wood work
Finnish welded bulkhead prior to shot blasting showing the new steel and some of the differences between early and late bulkheads .
1) Center section has an extra reinforcing pressing on the right side
2) Speedo cable and wiring loom holes all diffrent to match early dash panel
3) Door pillars have fittings for canvas cab doors
4) Passenger side toe plate smooth ,later bulkheads are fitted with angled reinforcing plates
Finished bulkhead after shot blasting and first coat of red oxide primer at this stage there are sixty hours labour on the bulkhead repairs
Test fitting of cab floor plates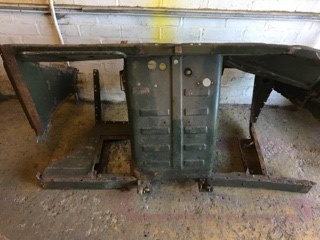 3